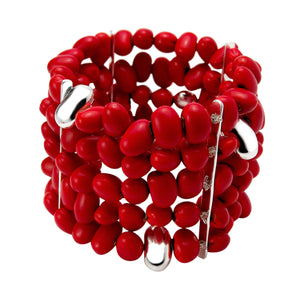 Colorin bracelet
Regular price $85.00 Sale
Details: This colorin bracelet is part of the Colorin collection, made in .925 sterling silver combined with non-edible red beans specially treated for disinfection. This collection is the first with which Dalia Pascal is launched as a concept. This bean occurs in several Latin American countries, and the red color is characteristic.
Dimensions: 10 X 8 cm | 4 X 3 in
Dalia Pascal
These pieces of jewelry, created by Dalia Pascal, have a common trademark that repeats itself in everything she designs, the search for harmony, for originality, for what is perfectly and imperfectly beautiful, for something that is not based only in fashion trends, but something that becomes a part of the person that is wearing it.
Dalia fuses the perfection of Silver and Semiprecious stones, to the meticulous work performed by Mexican Handcrafters with the sole purpose of giving an impulse and continuity to millenary techniques used to create real works of art, that at the time that they become reinvented, they develop into a stunning and appealing piece of jewelry.